We know you're as curious as a cat in a quantum box! Here, we've put together the most compelling questions our customers ask, presented in a language even Schrödinger would appreciate. Whether you're wondering about shipping timelines, the alchemy behind our science-inspired jewelry, or payments and refunds, we've got you covered. Dive into our FAQ to find quick, thorough answers that make understanding our services as straightforward as E=mc². Feel like your question hasn't been covered? No worries, we're always updating this section, and your inquiry might just be the inspiration we need! Reach out to us, and let's continue exploring this fascinating universe together.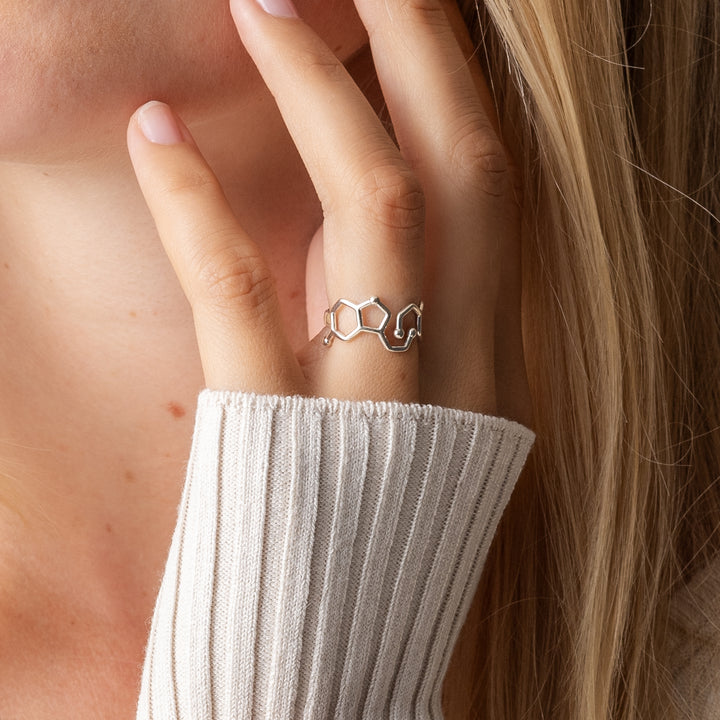 What are the best practices for maintaining my jewelry's condition?
To ensure your jewelry retains its radiance and finesse day after day, we suggest adopting a simple yet effective care routine. Even though our pieces are crafted to accompany you daily, it's beneficial to place them in a secure spot during periods of non-use. A soft polishing with the provided cleaning cloth will help maintain their original brilliance and charm. Our use of fine metals guarantees longevity, although it's natural for them to gradually exhibit signs of a life well-lived. Embrace these subtle changes as the natural evolution of your cherished accessory, not as flaws.
Do you accept custom orders?
Absolutely, we welcome bespoke requests! Click here to explore your options or initiate your custom order. We're eager to bring your unique vision to life!
What happens if an item I want is unavailable?
Should an item be out of stock, you have the convenient option to sign up for our restock alert. This way, you'll be the first to know when your desired product is available again!
What are the accepted forms of payment?
You can choose from a variety of payment options for your convenience. We accept the majority of credit cards, along with popular payment services like PayPal, Apple Pay, and Shop Pay. Choose your preferred method at checkout to complete your purchase.
What are your shipping destinations?
Our products are dispatched from Belgium to a global array of destinations. Please note, however, that we are unable to deliver to APO (Army Post Office) addresses at this time.
Do you provide free shipping?
Indeed, we offer free express shipping worldwide for all orders over 60€. Orders under this amount will incur a shipping charge of 20€.
What shipping service is utilized for delivery?
We entrust your valued pieces to DHL, the pinnacle of global shipping services, ensuring your items arrive swiftly, safely, and in pristine condition. We've carefully selected DHL for their unparalleled reliability because we believe your jewelry deserves nothing less. As part of our commitment to a smooth delivery experience, we'll request your phone number at checkout. This is solely for the purpose of allowing the courier to reach out to you directly should there be any delivery complications. Rest assured, your number will not be used for any other reason.
What is the delivery timeline for my order, and how quickly are orders shipped?
We're committed to getting your new jewelry on its way to you swiftly. From the moment you place your order, we ensure it's packaged and dispatched within 72 hours. Our delivery promise is to have your items in your hands within 4 working days after dispatch, unless specified differently on our website. Each piece receives a final touch by hand and undergoes a thorough quality inspection before embarking on its journey to you, ensuring that what arrives is nothing short of perfect.
What should I do if I haven't received an order confirmation?
As soon as your order is placed, our system is designed to send you a confirmation email instantly. If you haven't spotted this email in your inbox, we recommend taking a peek at your Spam or Junk folder just in case it's landed there. If it's still nowhere to be found, it's likely that the order wasn't finalized. In that case, please reach out to us for assistance and we'll ensure everything is set straight.
How can I track my order?
Keep an eye on the journey of your order with ease. We'll send you a DHL tracking link via email as soon as your package is on its way. Should you encounter any issues with tracking, or if you need additional assistance, simply send us an email. We're here to ensure a smooth experience and are ready to help with any concerns you may have.
Is it possible to cancel my order?
Yes, you have the option to cancel your order if you act swiftly. Please email us at info@somersault1824.com within one hour of placing your order to initiate a cancellation. We'll process your refund using the original method of payment. Please note that after the one-hour window, we're unable to cancel orders. However, you are still welcome to return the products by following our return process.
Am I responsible for paying duties and taxes on my order?
When ordering from countries that impose import duties, please be aware that you are responsible for payment of any import duties, customs, and taxes. These charges are typically due upon or after delivery. Since these fees are not within our control and can vary widely from country to country, we are unable to predict what your particular charges may be. It's a good idea to contact your local customs office before you order, so you're not surprised by unexpected charges.
Is it possible to return my purchase and receive a refund?
Certainly! If you're not completely satisfied with your purchase, you're welcome to return it within 30 days following delivery for a full refund.
What are the conditions for returning an item?
For your item to qualify for a return, it must be in its untouched, original state, accompanied by the initial packaging, including the box, cards, and any accompanying cleaning cloth. Here's how you can initiate a return: Contact us at info@somersault1824.com with your order number and specify which item(s) you're returning if you've ordered multiple products. Await our response; we'll let you know if your return meets our criteria and provide detailed return instructions.Please understand that certain items are exempt from returns, including: (1) Gift cards, (2) Custom-made pieces, (3) Any product not in its original condition or is damaged/missing parts not due to our error, (4) Items sent back beyond the 30-day post-delivery period. Wishing to exchange a ring for a different size? Reach out to us, and we'll guide you through the process for an exchange. A heads-up: Returns sent without prior notification will not be eligible for refunds. Also, return shipping costs are not covered by us.
How long will it take to receive my refund?
Upon the arrival of your returned item, we'll conduct an inspection. If your return meets our standards, we'll initiate a refund for the cost of the item (excluding shipping charges). The refund will be issued to the original payment method used during your purchase. Please allow roughly 10-14 days for the refund to be processed by your bank and appear in your account.